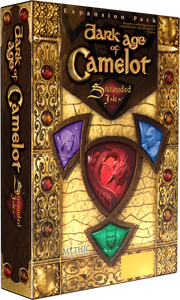 The Shrouded Isles is the first expansion to Dark Age of Camelot and is commmonly refered to as SI or Isles, it was released November 12, 2002.
It extends the story of the original game with new character classes, new races, and three new continents to explore - displayed in an all-new state-of-the-art graphics engine that make it look as advanced as any game on the market.
New Zones
Edit
Albion Zones
Midgard Zones
Hibernia Zones

Zones

Dungeons

Zones

Dungeons

Zones

Dungeons
New Races
Edit
New Classes
Edit
All new ambient music soundtrack Revamped user interface
New graphical engine with spectacular new visual effects
Loads of new quests, weapons, armor, outfits, monsters, advanced monster encounters
and a ton of other additions.
This expansion also introduced the ability to start your character in the Shrouded Isles, this feature was later removed as the starting area was consolidated and then the tutorial area was introduced.
Logos Used
Edit
Shrouded Isles Trailer - Mythic
Ad blocker interference detected!
Wikia is a free-to-use site that makes money from advertising. We have a modified experience for viewers using ad blockers

Wikia is not accessible if you've made further modifications. Remove the custom ad blocker rule(s) and the page will load as expected.